About Congo Bongo Ecolodges in Manzanillo, Costa Rica
Ecolodges, Property & Services - You've stayed in hotels, now stay in our Manzanillo rental houses!
Congo Bongo Ecolodges is a family-run property featuring eight vacation houses for rent in Puerto Viejo - Manzanillo in the southernmost part of the South Caribbean of Costa Rica and is located about 12 kilometers south of Puerto Viejo de Talamanca in the province called Limón. It is located in the Gandoca-Manzanillo Wildlife Refuge and the property itself is about 6 hectares (15 acres). It is nestled in a private nature park and tropical garden with plenty of wildlife.
Congo Bongo Ecolodges has hosted several weddings during its years and we would be more than happy to help you with all the arrangements - we have the experience and connections (floral arrangements, professional photographer, etc.) to help you plan your once in a life-time special event - just contact us and we'll be more than happy to help. We work with a great wedding planner - see their website.
We get guests from all over the world and all ages who rent our houses in Manzanillo, from 0 to 80+ - everyone is more than welcome. You've stayed in traditional hotels, now try something new!
Congo Bongo Ecolodges is also very popular for family reunions as every Manzanillo rental house offers ample space for socializing. Our Long Dream House, for example, has a large covered patio and an outdoor barbecue.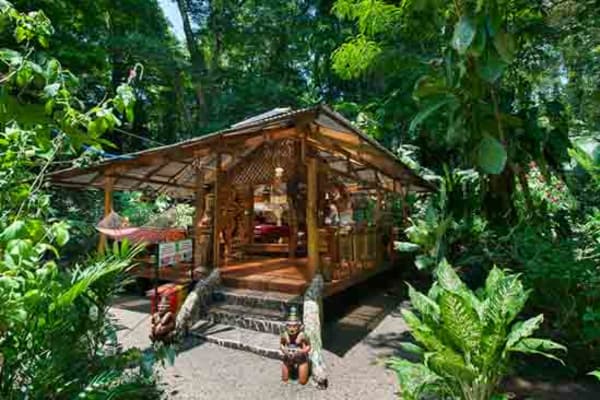 Private and Tranquil
Your own nature house
Hotel Congo Bongo features seven private and relaxing beach nature houses for rent in Manzanillo, Costa Rica. All located within a private area of 6 hectares (15 acres) with direct access to the beautiful Manzanillo beach. Congo Bongo is the perfect vacation spot for families, friends, couples or honeymooners looking for an exciting yet private getaway. All our rental houses are designed for self-catering and comfort in a tropical climate.
See our Ecolodges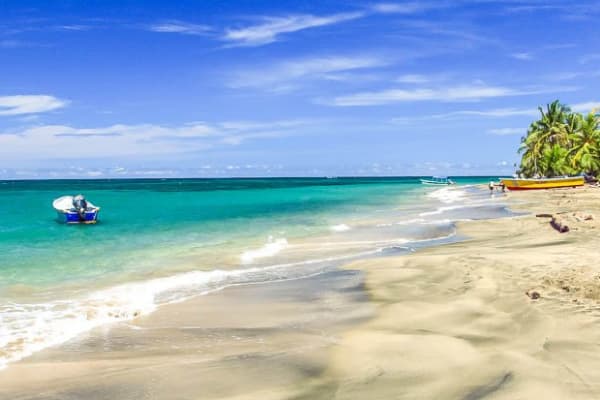 Manzanillo beach
White sand beach
Only 200 meters away you have access to a fairly private stretch of the beautiful Playa Manzanillo beach just a little west of the village Manzanillo. It is accessed from your house by a pathway - a little nature tour of its own. Congo Bongo Ecolodges is the perfect place to rent a home in Manzanillo and spend the day at the beach.
Discover Caribbean Beaches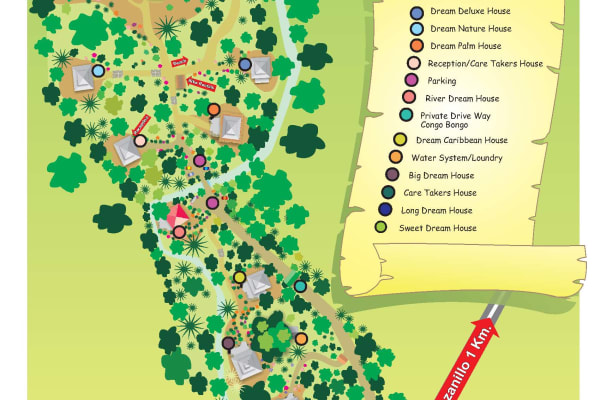 Map of houses
See where the houses are located
Our Manzanillo rental houses are distributed in little private "bubbles" on six hectares - all close to nature. The beach Playa Manzanillo is accessible through pathways and in all cases a short walk away.
You can view and download the Congo Bongo property map here (2.3 MB)
Getting to Congo Bongo
General Info & Things to Know
The reception is open daily from 7am - 5pm we are more than happy to help you book a day trip or tour. Or just give you a little tip of where to go and eat if you don't feel like cooking that day - after all you have come to relax and shake off all that stress.
Each of our ecolodges offer ample space according to your needs - from two persons up to a maximum of seven people.
All our houses come with a fully equipped kitchen and complimentary laundry service, security cameras, free bottled spring water, one bottle of red wine as our welcome and free Wi-Fi.
All the beds are covered with mosquito nets and the houses are well screened. Fresh linen and towels will be provided and soaps are included.
For your general safety we have installed a security cameras monitoring the houses and the property 24/7. All houses can be locked up and have a safety box where you should put your valuables when you leave your house unattended.
Here you can enjoy a virtual tour of Congo Bongo Ecolodges before visiting:
Learn More
Our Location
Guest Reviews
We strive to provide an exceptional level of service for every guest, and are proud to have a 4.5-star rating on TripAdvisor.
View Reviews