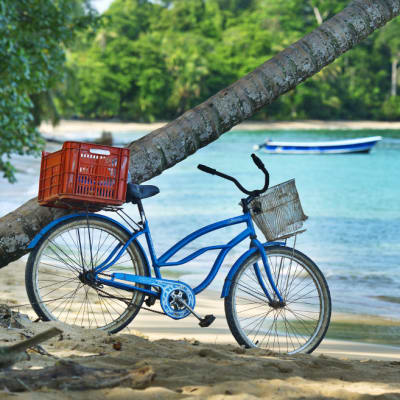 Getting Here

Private Taxi Van
If your schedule doesn't work out with the shared ride van services schedules or just like your privacy, you might consider hiring a van with driver for a private transfer to Congo Bongo in an air-conditioned and comfortable van with WiFi. The driver we use is very reliable and will pick you up right at the International Airport of San José and bring you straight to Congo Bongo in Manzanillo without any stops for other passengers - comfortable and no waiting for the scheduled time.BOOK this option by sending us an email with your details and we'll take care of the rest.
---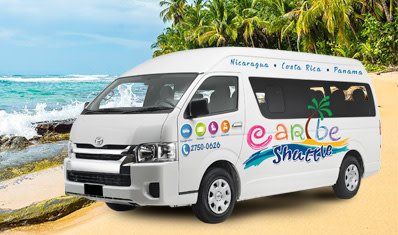 Tourist Shuttle
There is a good and safe shuttle transport available in an air-conditioned van with WiFi from San José to Congo Bongo Manzanillo offered by Caribe Shuttle.
Caribe Shuttle makes two daily trips from San José to Congo Bongo in Manzanillo and there are two Interbus trips daily back to San José. They will pick you up at your San José hotel or at an off-airport location and let you off directly at Hotel Congo Bongo Manzanillo.
You must book these services in advance because sometimes they fill up.
---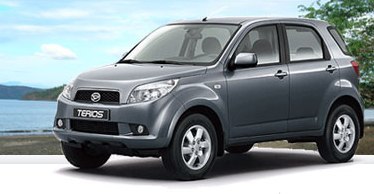 Rental Car
If you're considering renting a car and driving to Congo Bongo, all the major international car rental companies operate at or nearby San José International Airport as well as in downtown San José.
There are meanwhile two rental car companies operating in the Puerto Viejo area: Adobe Car and Alamo Costa Rica.
We've created a PDF that you can view or download with directions how to get to Congo Bongo: View PDF
Eco-Car Rental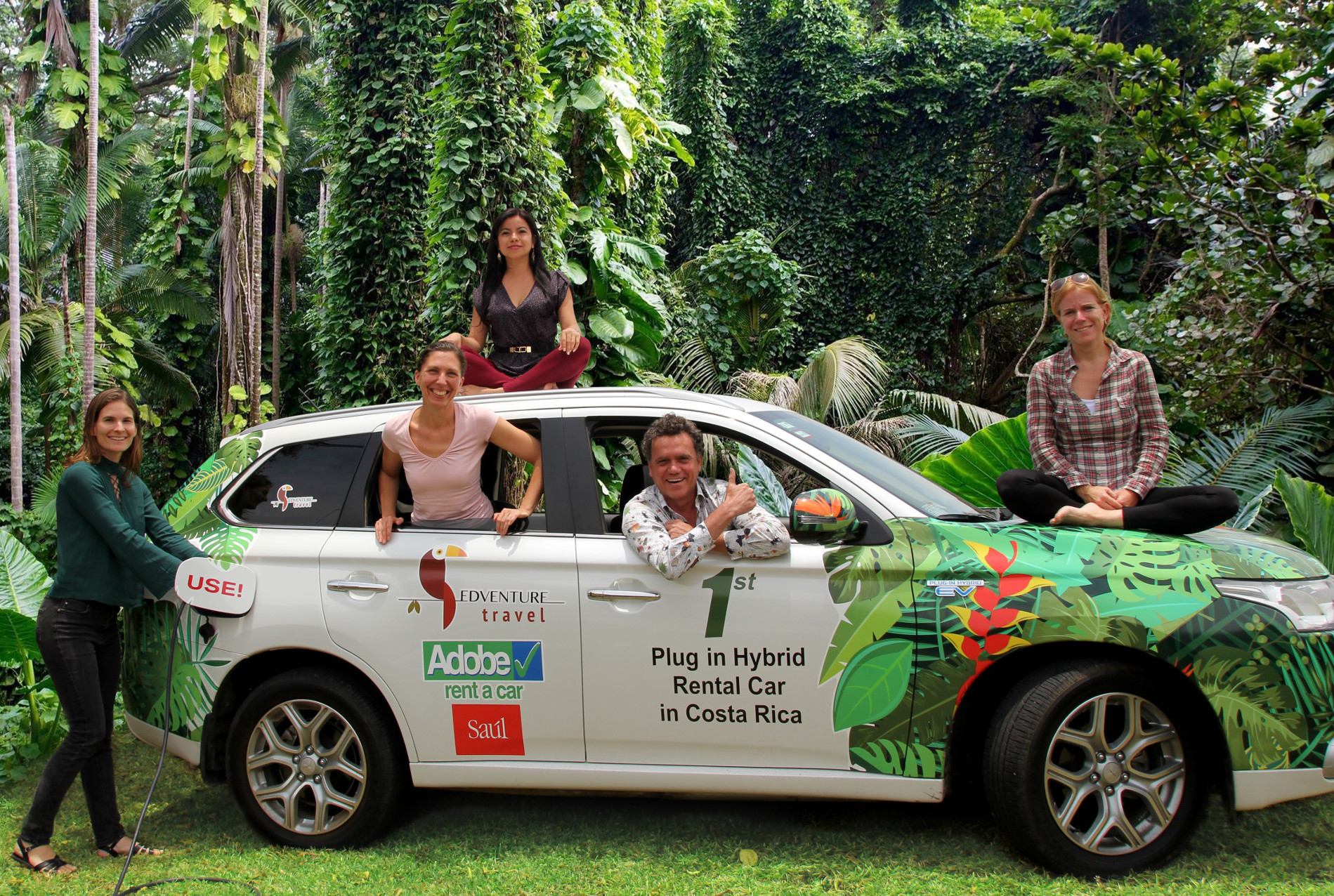 Congo Bongo Ecolodges is proud to be one of the first businesses in Costa Rica to offer free charging for hybrid eco rental cars. Read this PDF guide for more information.
---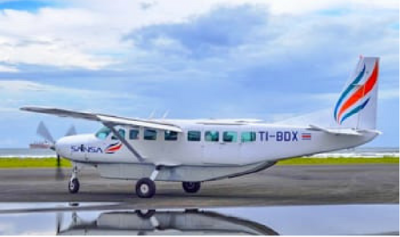 Flying with SANSA San José > Limón Airport
The quickest way to get to the Caribbean - instead of 4 hours driving you'll be there in charming 30 minutes! You'll then be taken to Congo Bongo in a shared shuttle with WiFi and A/C.
---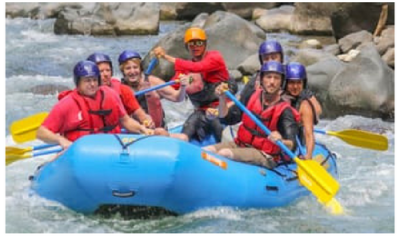 Via Rafting Trip
Another option is to book a rafting trip on the Rio Pacuare, Rio Sarapiqui or Rio Reventazon. This is a whole day trip and they will pick you up in your hotel in San José or Arenal and drop you off in Congo Bongo.

To return your trip to San José or Arenal it is also possible to have this service. So it's kind of like getting your transportation for free!.
---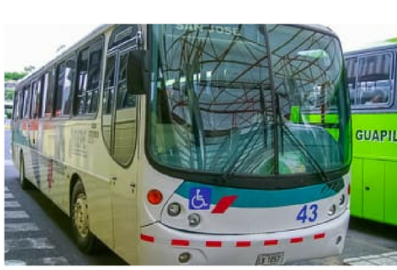 Buses from San José to Puerto Viejo/Manzanillo
Buses for Puerto Viejo and Congo Bongo Manzanillo leave from the Terminal de Buses de San Carlos in San Jose. The bus company that drives there called Transportes Mepe and their ticket office is at the end of the terminal.
There are two towns called Puerto Viejo that you can catch a bus to from this terminal. You want Puerto Viejo de Talamanca (also known as Puerto Viejo de Limón).
There is one bus a day going at 12.00 am to Congo Bongo Manzanillo. The cost is about $12 and it will take about 5 hours (ask the driver after Puerto Viejo to stop by Congo Bongo Manzanillo) and the bus makes only one 20 minute stop in Limón for you to use the bathrooms and get something to eat or drink. When you reach Puerto Viejo you have to take a taxi to Congo-Bongo Manzanillo the cost is about $14.
MEPE bus schedule to the Caribbean:

Transportes Mepe Phone Numbers: San José:(+506) 2257-8129, Limón: (+506) 2758-1572, Puerto Viejo: (+506) 2750-0023
MEPE bus schedule from the Caribbean:

---
Flying Private
The ride is a really great experience for you and your party, we will give you a tour on the way to see the Irazu volcano, the Turrialba volcano, the Cachi dam, the Caribbean and the Talamanca natural reserve and Hitoy Cerere biological reserve. Upon approaching the destination we will brief you about the banana plantations and their history in Costa Rica.
Give us the privilege of taking you comfortably and safely to Congo Bongo and back.
The flights can depart from 5:00 am to 6:00 pm. If you just give us your flight or hotel information we will send the driver to pick you up at the terminal or hotel in San Jose.
The driver will be waiting with a sign with your last names printed on a sign. All you have to do is to follow the driver to the luxury ground transportation and we will take you to the hangar where the plane is going to be ready for the departure to Sixaola.
Flight time from San Jose into Sixaola is 42 minutes.
In Sixaola there will be the Congo-Bongo van waiting for you and your party to bring you the 17 miles drive to your beautiful vacation home.
On the way back we can offer the same, pick you up 3.5 hrs before the flight departs from San Jose international airport, and we can fly you direct to the International airport and drop you off at the terminal where it will take 4 minutes to get to the departure terminal.
The car service - pick up and drop off - is included in the full price.
Our philosophy is to fly safely and arrive on time. Allow us to improve your quality of life by significantly shortening your travel time so that you can take full advantage of your time on your holiday home. We do everything, you just enjoy your trip.
We rely on an excellent and highly qualified staff of pilots who are prepared to guarantee your comfort in the sky.
---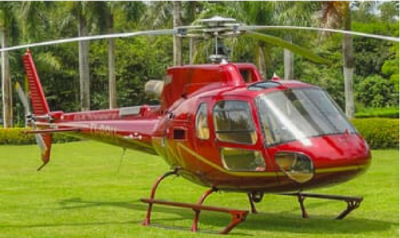 Heli Transport
Enjoy this amazing experience flying over the tropical rain forests and Caribbean beaches. Spend less time than other transport ways and cherish every second more that you have in the great scenarios that we have to offer. We have three companies offering this service.
BOOK this option by sending us an email with your details and we'll take care of the rest.
This is a once in a life-time experience!!
Congo Bongo helicopter flights is the solution to visit the South Caribbean side of Costa Rica - in about one hour flying time, from the Tobias Bolaños International Airport in San Jose, you will be at Congo Bongo in Manzanillo. Even though Costa Rica is a small country, it takes hours to drive to its beautiful destinations due to the irregular topography and not well maintained roads. By chartering your private helicopter you will save valuable time reaching us.
It is a fast, safe and a special experience on top of spectacular nature views of Costa Rica.
Our VIP service offers the client the best aerial transportation in our country, because we will establish a route flying over beautiful areas amazing jungles and have a wider look at all the Caribbean crystal waters and beaches , before arriving to Congo Bongo.
You will be thinking: "Oh my God, Costa Rica is amazing and we chose a perfect destination."
You will be flying certified units with the most experienced helicopter pilots, with years of experience in emergency cases, severe weather situations and being chosen by celebrities during their vacations in Costa Rica.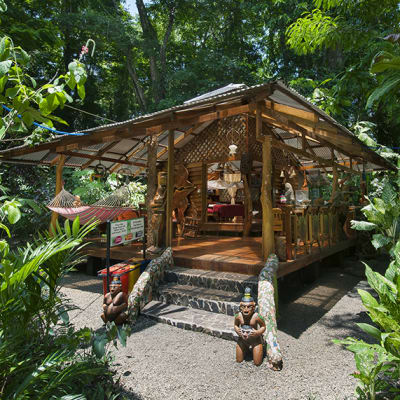 FAQ
Naturally a few questions arise along your vacation planning, so, here is a little compilation of the most common questions we get.
About the houses ...
Do the beds have mosquito nets?
Yes, all the beds are supplied with mosquito nets and all the houses are well screened.
What sizes are the beds in the houses?
The Houses have good orthopedic mattresses and measurements. The double bed size is 140x195 cm. The single bed size is 100x195cm. The King size bed is 200x195cm.
Are the shower and kitchen shared with other customers?
No, you never have to share any of the houses with any other customers. All houses offer their own facilities and are completely private.
Do you provide towels/bedlinen during our stay?
As in any other jungle house rental towels and sheets are included in the price of the rent. They will be changed once a week. If you prefer we can clean your house every day, but please let us know at arrival, we will charge you extra for this service. Of course you can always ask us for dry towels.
Is there security to prevent theft of personal belongings?
All of the houses are equipped with a safety box. All the doors and windows are provided with locks.
Is there electricity?
Congo Bongo has electricity. In Costa Rica the voltage is 110V and the sockets are the same as in the U.S.
Is there any internet access?
Yes, all the houses have free WiFi and Internet access.
How far is it to the beach?
The beach of Playa Manzanillo is about 200 meters from the property.


Activities nearby?
What kind of activities are there to do around?
About activities you don't have to worry. There is plenty to do. Jungle hikes in the Manzanillo wildlife refuge are most recommended. Also Butterfly Farm, horse back riding, snorkeling/diving, kayaks for rent, dolphin tours, visit to chocolate farm and help making chocolate, bikes and tours to the indigenous reserve in Bri Bri, canopy and wild water rafting and much more actually. Check our activities section to get a better idea of what we have to offer.
Is the snorkeling good? Do you rent snorkeling gear?
Depending on the time of the year the snorkeling is fantastic. Most recommended for snorkeling are April/May and September/October. But also during many other months when the tide is low and the ocean calm you will enjoy snorkeling a lot. Congo Bongo does not rent snorkeling gear, but there are other places around which do, e.g. in Punta Uva Dive Center.
Can we swim in front of Congo Bongo?
Right in front of the property the beach is very beautiful and good to take a swim. Only during the raining season the rip tide can be stronger.
Can we rent bikes?
Yes, we have a set of fresh new bikes that you can rent for 10 USD per day. Renting a bicycle is an excellent way of reaching nearby beaches and grocery stores.
Can we see dolphins?
Dolphins you can find in Manzanillo. There are 3 kinds of dolphins reported, including the very rare and recently discovered Amazon species Tucuci. The people from the dolphin foundation in Manzanillo, Aquamore, can take you on trips and almost guaranteed you will see Dolphins. However, they wont allow you to swim with them.
How close is the Cahuita National Park?
The Cahuita National Park is 15 km North of Puerto Viejo.
How close is the Gandoca-Manzanillo National Park?
Congo Bongo is actually built within the boundaries of the Gandoca-Manzanillo Wildlife Refuge. For hiking in the refuge we recommend to go to Manzanillo, from where nature guides can take you on their tours. If you want you can enter the refuge also by your own, however you can get lost if you walk in to far. The trails are narrow and sometimes difficult to find. The vegetation is very thick and walking off the trails in the rain forest is not recommended.
Eating and payment options?
How far is the closest restaurant?
Cool and Calm is just a 10 minute walk away, ath the very beginning of Manzanillo town. See their reviews on TripAdvisor.
Is Congo Bongo offering food and drinks?
Unfortunately we can not offer you this service. All the houses are supplied with a fully equipped kitchen and a big tank with fresh drinking water. The nearest restaurants are located in Manzanillo and along the way to and in Puerto Viejo you will find lots of restaurants who will offer you food and drinks all day.
Is there a grocery store close to the hotel?
At less than a 10 minute walk from Congo Bongo are two small pulperias, little grocery stores.
Can we use credit cards?
Unfortunately we can not offer you this service other than your first payment over Paypal. Cash money, dollars and colones, are easier for us. The same goes in the grocery stores, mostly. Some accept credit cards, but it always best to carry enough cash.
Getting here and around
Where is the nearest airport to get to you?
The nearest airport is in Puerto Limon. Sansa Airlines now offers daily flights from San José (SJO) to the Limon Airport (LIO) that take just 45 minutes. Then you can take the shuttle to Puerto Viejo, which takes about one hour. Otherwise it would be the San José airport where most international flights come in.
How far of a drive is it from San José?
Under normal conditions you drive it probably in about 4-5 hours. However, faster is possible. The road from San José to Congo Bongo is paved all the way. At night it will probably takes a little more. However, we really not recommend you to drive after dark in Costa Rica. People sit on the sides of the roads, there are pot holes every where and signs are very poor. We really recommend you to do the drive from San José to Congo Bongo during day time. Or use the InterBus service. The driver will pick you up from the airport or your hotel and drive you all the way down to Congo Bongo. Taxis are very cheap locally and it is not really a must to have your own vehicle while being at Congo Bongo. Most people always realize it was not necessary to have a rental car. Unless you decide to travel through the country independently.
How far is the bus from Congo Bongo?
From Manzanillo buses leave at 5:00, 8:15, 12:45 and 17:00 hours. They pass at Congo Bongo about 5 minutes later, but can be earlier. This bus gets about 2 hours later in Limón. In Puerto Viejo many more buses stop. To San José buses leave at: 7:00, 9:00, 11:00 and 16:00 hours. From San José to Puerto Viejo buses leave at the Terminal de Buses de San Carlos or also know as Autotransportes Mepe. They leave at: 6:00, 10:00, 13:30 and 15:30 hours. From Puerto Viejo to Congo Bongo you will have to take a taxi. The bus fare from San José to Puerto Viejo is about $11.
Can I get a taxi around?
In Puerto Viejo it is easy to find a taxi. The fare to Congo Bongo is about $10. At night up to $12. We can always call you a taxi from Congo Bongo. It's a about a 15 minutes drive from Congo Bongo into Puerto Viejo.